Long Island Water Education Program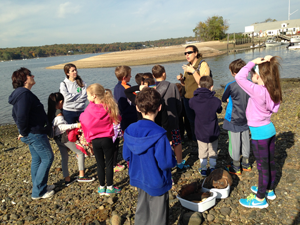 The Long Island Water Education Program  was launched in fall of 2014, reaching 275 fourth, fifth and sixth graders that semester at St. Patrick School in Huntington and James H. Vernon and St. Dominic Schools in Oyster Bay.  Through a series of interactive lessons both in the classroom and outdoors, these youngsters learned about the aquifer their drinking water comes from, its connection to cherished streams, bays and Long Island Sound and how their activities can affect the quality and quantity of this precious resource.
Volunteers  worked with our stewardship director in 2014 to construct the curriculum's skeleton.  Our educator was hired in August to develop and implement lessons and hit the ground running.  She served as both an outdoor educator for BOCES for four years and an elementary school teacher for the Massapequa School District for eight, so her experience is an ideal match for our program.  Her warmth, enthusiasm and professionalism round out her qualifications – we can't say enough great things about her!
Additional outreach and word-of-mouth reviews have yielded partnerships with a number of other schools for spring semester 2015:  East Street, Burns Avenue and Old Country Road Schools in the Hicksville School District, West Side and Laurel Hollow Schools in the Cold Spring Harbor School District and Boyd Intermediate School in the Elwood School District.  We expect that by the end of the 2014/15 school year our program will have reached approximately 1050 students. 
Our 95 Shore Road (former ExxonMobil) property in Cold Spring Harbor has been the location for the field trip many of the students attend as the third and final session in the series.  This session enhances their new understanding of how conservation and stewardship of our natural areas can help protect our water.  Our educator leads the students in an exploration of the shoreline, where they learn about the plants and wildlife that depend on a healthy coastal community to thrive.  Other activities may include using a seine net to investigate wildlife living in Cold Spring Harbor, testing Harbor water quality, a beach cleanup, comparing absorption of water by permeable open space to runoff from paved surfaces and participation in our grassland restoration by collecting soil samples (to measure pH and other parameters) and harvesting Switchgrass and Indiangrass seed that will be planted there in the future to augment existing populations. 
We are grateful to our numerous volunteers who have helped make this program possible.   We hope our students will become devoted stewards of Long Island's waters.  If the classes held so far are any indication, Long Island's water, under the stewardship of our students, will be in good hands!
For more information about our Long Island Water Education Program please contact North Shore Land Alliance at 516-626-0908 or Email us at info@northshorelandalliance.org.